Vivian Robe Room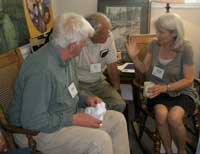 Measuring 19.5 ft x 23 ft (448 sq ft), this is a bright yet intimate room that accommodates up to 20 in a circle arrangement.
It's ideal for a discussion or meeting.
Cushioned chairs provide comfortable seating around the central table.
Arrangements can be made to use skype or other online video resources.
An exterior door offers ready access to the outdoors for breaks or contemplation.