The Dances of Universal Peace are a joyous, multicultural way to touch the spiritual essence within ourselves and others.
The Dances use sacred phrases, chants, music and movement from the many spiritual traditions of the World to promote peace and create an integrated experience of body, mind and spirit.
Our dance team has been leading these Dances for six years.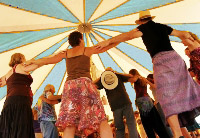 All are welcome. There are no performers or audience: new arrivals and old hands form the circle together.  Dances are easy to learn and are taught to the group each time.
Date:
Third Saturday of Each Month
Time:
7:00 – 9:00 pm
Location:
Suquamish UCC
17832 Division Ave.
Suquamish, WA 98392
Cost:
Donations are invited
For more information on how the Dances originated, and where to find them worldwide go to: DancesOfUniversalPeace.org.
For more information: Call (360) 598-4434.