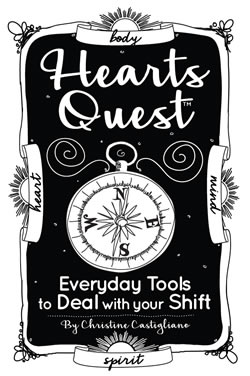 HeartsQuest
Everyday Tools to Deal with Your Shift
| | |
| --- | --- |
| Date: | Four Mondays in May |
| Time: | 6:30 – 8:30 pm |
| Cost: | $60 for all four sessions |
The HeartsQuest series is for anyone at a crossroads, in a time of change, seeking new paths.

What does your heart ask of you now?
What gets in the way of that?
How to move forward with compassion and courage?

We'll use creative tools for authentic exploration, insight, and expression, including: breath, mindfulness meditation, active imagination, movement, sound and journaling.

You'll create a map of essential takeaways to guide your next steps.

May 1:
Explore thought patterns that can hold back your creativity
May 8:
Release old residue to open the gates of compassion
May 15:
Tap body wisdom and personal power, find your courageous voice
May 22:
Receive support and guidance from something bigger, claim your gifts
For more information, please visit HeartsQuest.com.
This series is preceded by an evening event:
Spark Story: The Courageous Art of Following Your Heart
Christine Castigliano weaves story, song and creative play to awaken hearts and inspire courageous actions. Her work with story includes TIME Magazine, feature films, public television, producing corporate websites, and young adult novels.

She has facilitated Teen Talking Circles, Summer Spark camps, and women's empowerment circles for five years.

A former vocalist with Seattle's Total Experience Gospel Choir, Christine offers sound healing, coaching, workshops, retreats and her books and music at HeartsQuest.com.

For more information: Call (360) 598-4434.